About me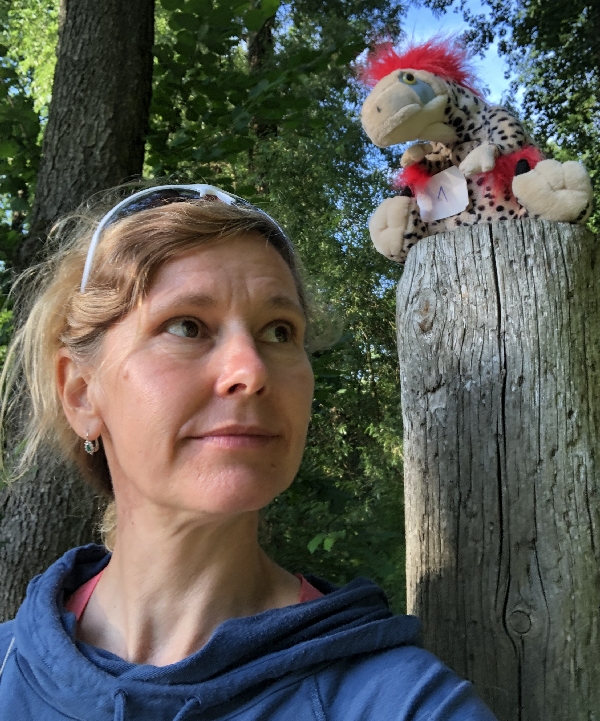 Experienced teacher – English studies graduate of full-time study at the Faculty of Arts at Masaryk University in Brno (a master's degree – Mgr.)
Cambridge Certificate of Proficiency holder (CPE)
University of New York in Prague graduate (a master's degree in administration - MBA)
General English lecturer, Business English lecturer
All levels of English (Overview of Levels of English)
Teaching adults, teaching children
Mini groups, 1-to-1 teaching, teaching in companies, conversation
English by Skype
Translations and interpreting
Giving consultations to English teachers
Cambridge exams preparation: PET, FCE, CAE a CPE
Crash course for a job interview "Back to Work"
Crash course for Business English
Crash course for exams and tests (2-3 lessons)
Education:
I graduated from mathematics at the Faculty of Sciences and the English language at the Faculty of Arts at Masaryk University in Brno (1991-1996), full-time study, my thesis was in the English language field (literature studies). I acquired basic formal pedagogical education. I passed Cambridge Proficiency exam (CPE) and received Certificate of Proficiency in English at British Council. Proficiency level represents the highest level of knowledge of English (Overview of Levels of English).
I graduated and received an MBA degree at University of New York in Prague (2001-2003); the whole study was in English.
Teaching experience:
Leading the organization and teaching English language courses in a company for a hundred of its employees, a cooperation with native speakers of English (a test assessment of students, putting them into groups, an organization of the timetable of English lessons)
Leading JR English language courses in Messer Eutectic Castolin, GLOBUS ČR, VZLÚ - Výzkumný a zkušební letecký ústav, H&M Hennes & Mauritz CZ and GECO in Prague.
Leading intensive one-to-one courses tailored to student's individual needs via Skype / Google Talk to improve their English speaking skills (not only :-)) over the telephone (e.g. discussing chosen technical topics in English)
Leading language courses for AKCENT International House Prague, a language school in Prague (Allianz pojišťovna, DIRECT Pojišťovna, Radio Free Europe/Radio Liberty, UniCredit Business Partner).
Teacher and language advisor in ABB company and IK-system in Brno.
Leading intensive language courses for GRAPA Company in Brno.
Experience with teaching groups and one-to-one lessons.
Experience with teaching English to school and pre-school children.
Using English in a managerial position – see my CV.
My Brief History of Time :-)
After I graduated from Masaryk University and having stayed as an au pair twice in London, whose sights, museums and galleries I frequented with pleasure, I was giving language courses to adults for a couple of years. One of my company students suggested me to enter a managerial scheme for graduates and thus I started my retail career. I began working at the department store in Hradec Králové then I moved to Prague department store and finally I was working at Tesco Head Office in Prague. I went to work as a trainee to Tesco Cirencester 2 in England. I found myself in a picturesque area of Cotswolds. Apart from learning a lot about company procedures and processes in all departments, I found some time to travel around England (Stonehenge, Bath…). I was a Fresh Food Manager for all department stores in CR/SR in Tesco Head Office and then a Project Manager for all department stores and hypermarkets in CR/SR. I was working on projects concerning Fresh Food Commercial Department and working procedures in Commercial Department. After my children were born, it was the right time to change the track of my career again and go back to teaching English which I have never stopped to enjoy. Step by step I have built up a network of my students and friends that I love working with and I do enjoy their company – HAPPY ENDING.
I cannot forget England but my heart is with Scotland where I keep coming back to as I spend my lovely hiking holidays in the care if a small Scottish travel agency About Argyll which organizes one-week hiking holidays for small groups of hikers lead by excellent and experienced guides around various places of wild Scotland – pictures.
What do I do in my free time? I look after my family and I like passing time with a good English film or book, especially fiction by Roald Dahl, J.R.R. Tolkien or J.K. Rowling. I occasionally read in Czech, mainly books of travels. I join improvisational theatre workshops every now and then. Ï regularly run and ride my bike in order to get some exercise and relax my mind. I prefer hiking in a forest and in the mountains.